Harnessing the Benefits of Material Strength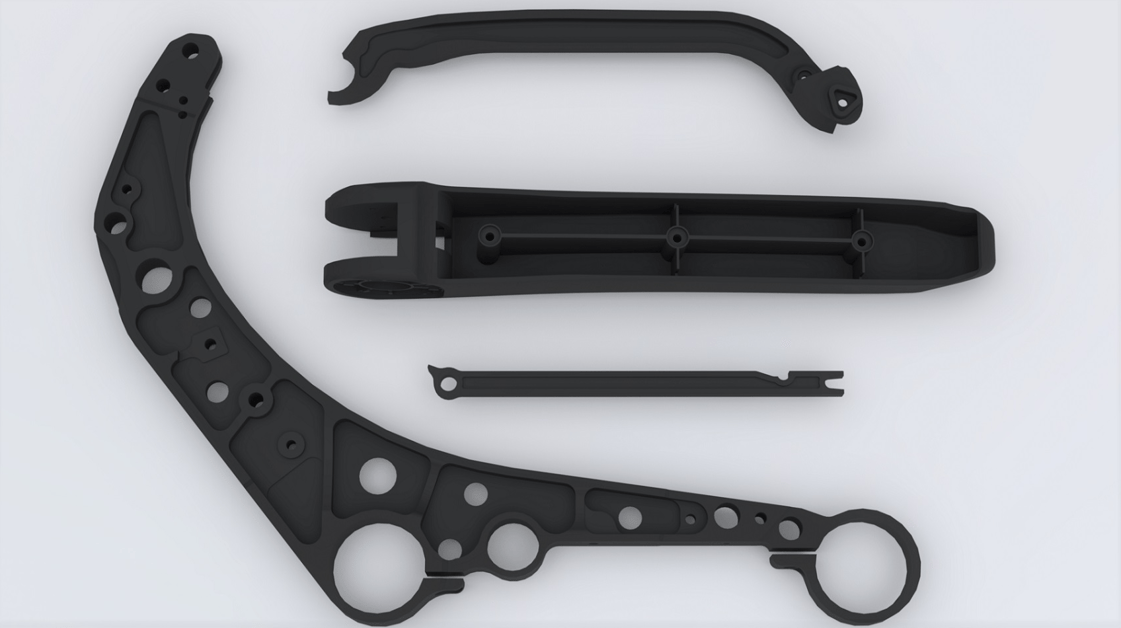 AIX Show Catalogue - June 2022
Current delays, shortages, and price instabilities in supply chains have made the prospect of converting from metallic materials in the aircraft interiors industry more attractive than ever, says Alpine Advanced Materials.
First triggered by the pandemic and further exacerbated by the war in Ukraine, uncertain supply chains and cost increases in aluminium, titanium, and magnesium are forcing manufacturers to take a closer look at thermoplastics. When price and availability prove unreliable, manufacturers must pivot so the materials they use are readily and consistently available and can be affordably sourced.
Converting parts from metal to a lighter-weight material offers one of the greatest opportunities for heavy industries such as aviation to make dramatic cuts in carbon emissions. While some industries address the issues of carbon neutrality with more efficient manufacturing and clean energy, most emissions in the airline industry are actually generated through operation, which is addressed by cutting weight. In addition to increasing performance, weight reduction can help recoup the cost of conversion, whether through reduced fuel usage, carbon credit savings, increased payloads, or extended range.
In one case, a manufacturer used HX5, an engineered nanocomposite from Alpine Advanced Materials, to make parts that were 40% to 50% lighter than milled aluminium parts, resulting in significant weight savings across the aircraft. In a study by a global aerospace equipment manufacturer in partnership with a major airline, they evaluated the replacement of 34 machined aluminium parts on a Boeing 777-300ER and found the result was a weight saving of almost 1,000 kg, which would achieve up to six percent fuel savings.
Additionally, components made with advanced materials are greener to manufacture – injection moulding with HX5 results in 44 times less CO2 emissions than milling an aluminium part. Plus, manufacturing with traditional materials typically requires machining a design out of a large block of metal, resulting in as much as 70% material waste, whereas injection moulding with HX5 requires only the exact amount of material needed to produce the design, resulting in 0% waste. The raw materials used (and more reliably sourced) can even be recycled by being reground and used for non-production parts such as samples and prototypes, or for purge and setup for new HX5 components.
By challenging the default choice of making parts out of metal, new materials like HX5 also present an attractive way to modernize industry. New material technology allows for parts and components that are equally strong and, in many ways, better than traditional metals, improving performance and efficiency while also simplifying maintenance and repair.
Last year, an Alpine client, a global airplane seat manufacturer, was trying to shed weight. After running its own analysis on the client's existing parts, Alpine identified an ideal component for a one-to-one replacement to cut weight: a seat armrest. In converting the armrest to HX5, Alpine ran extensive testing to identify areas where it could simplify the structure and still maintain load requirements, making adjustments along the way, without exceeding the design envelope. With a starting part weight of 0.15kg (0.33lb), Alpine was able to combine the unique properties of HX5 with the expertise of its engineers to lower the weight by 30 percent, resulting in a 0.10kg (0.23lb) armrest.
Alpine also recently worked on a project involving another aircraft seat manufacturer that had migrated a component from aluminium to titanium but was unhappy with the final aesthetic. Instead, they switched their focus to HX5, examining the entire seat design for parts that could be lightweighted or consolidated. Alpine looked at the starting weight and the starting number of parts in determining what could be addressed with both HX5 and the company's advanced engineering services and design methodology for replacing aluminium in interiors applications. The parts replaced included an armrest, seat spreader, and tray table arms and guides, resulting in a collective weight savings of 1.32kg (2.912lb) per Pax using HX5. Although it may not seem like much, if this weight savings were applied to, for example, an entire 200-Pax aircraft across a 100-aircraft fleet, it could result in approximately €536,000 ($581,000) in fuel savings per year.
The project yielded more than weight savings, however. Simplifying the design by consolidating parts – making the armrest a single injection moulded part versus a five-part, over-moulded, mixed material assembly – also affected production, cutting overall costs of assembly including time, labour, and third-party requirements. This means that by using a nanocomposite to make an interior part as prone to damage and replacement as an armrest, it could be replaced more quickly and easily, which is where those aluminium, titanium, and magnesium shortages – not to mention shipping delays – can wreak havoc.
Part consolidation allows manufacturers to not only simplify their supply chains, but to also limit risk and delays. Fewer parts mean fewer parts that can fail, fewer parts in the supply chain, and fewer parts to buy. The process also takes the costs out of secondary operations – instead of assembling, machining, and coating multiple parts, you only have one – reducing the number of or need for assembly components such as hardware or adhesive.
Reinforced by carbon fibres and proprietary nanomaterials, HX5 has broad manufacturing flexibility and can be injection moulded, formed, extruded, machined and coated with incredible ease. Outperforming metals in mouldability as well as specific strength, HX5's low viscosity and mechanical properties unite for the moulding of thin, complex shapes that maximize weight savings by taking full advantage of its specific strength – twice that of 6061-T6 aluminium. HX5 has also demonstrated extreme corrosion resistance to solvents, fuels, lubricants, and chemicals, giving it the ability to withstand the most demanding applications.
Conducting extensive analysis and optimization to improve the design of parts also helps cut the overall costs of the assembly. Traditionally, aircraft interiors designers wanting to convert from metal have been hesitant to pursue new material options, mostly due to a lack of experience or understanding on how to prototype or design with them. With engineered composites, fibre orientation is an extra and critical consideration to take into account because it enhances the material's mechanical properties. Many of the product teams with whom Alpine works have not designed with the fibre level in mind and err on the side of caution, ending up with an oversized product that doesn't fully leverage the benefits of the material's true strength. Knowing these gaps exist, Alpine's engineering group educates aircraft interiors companies on how to design for injection moulding, which helps them convert their first few parts and learn about best practices and how to meet their performance criteria.
Progress in industry is often driven by crisis – necessity is indeed the mother of invention. For the aircraft interiors industry, this moment in history has created a myriad of problems that need to be solved. Shifting the paradigm on using new material technologies is one way we can start finding answers to our questions and building a sustainable future.
Read the original story in the 2022 AIX Official Show Catalogue.